The thrust ball bearings require as accurate alignment of seating surfaces as possible. Any misalignment causes increased stress between the rolling elements and raceways contact. Therefore, the thrust ball bearings are not suitable for carrying forces under misalignment of the shaft and housing washers.
Axial Equivalent Dynamic Load
Pa = Fa [kN]
Minimum Axial Load
When using the thrust ball bearings under higher rotational speeds, the sliding of the balls between the ring raceways due to centrifugal forces can occur if the axial load Fa drops below a certain minimum value determined from the following equation: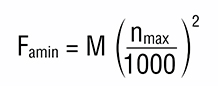 where:
Fa min – minimum axial load [kN]
nmax – maximum rotational speed [min-1]
M – minimum axial load factor (values are indicated in the dimension tables)
If the external axial load is low (lower than Fa min) or if the bearing is relieved during the operation, such as when one row of balls in the double direction thrust ball bearings or one bearing in the arrangement of a single direction bearing pair is relieved, it is necessary to secure the minimum axial load, e.g. using springs.
Axial Equivalent Static Load
Poa = Fa [kN]